Shoppable® allows you to set up multiple users with the ability to log-in to your dashboard account. Each user will have their own individual, unique login, and password. This feature includes: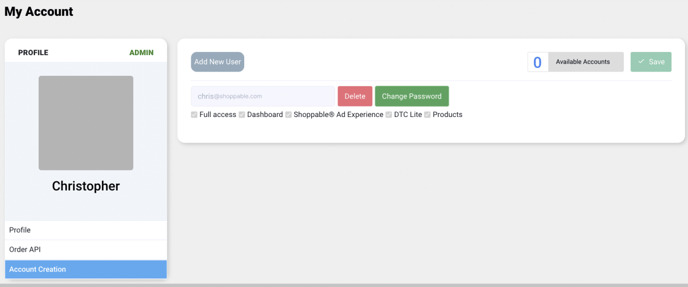 1. Account Settings
In account settings, the main user (Admin) has the ability to add or remove guest accounts to their Shoppable Platform.

2. Access Restrictions
Admin can control to which Shoppable® products they want their guest accounts to be able to access. For example, if you want a guest account to only access DTC Lite and the reporting Dashboard, you can set that for the guest account accordingly. Guest accounts will only be able to access the products that were selected (I.e.: Shoppable® Ad Experience, Instant Shop).
Admin can also give guest accounts full access to all Shoppable® products.

3. Multi-User Sessions
All users will be able to sign into the main platform at the same time.
If you would like to add more users to your account, please contact your Customer Success Manager.