Yes! Shoppable has a partnership with Shopify. It's very easy to get started and the whole process should only take you 5 Minutes. Let's get started...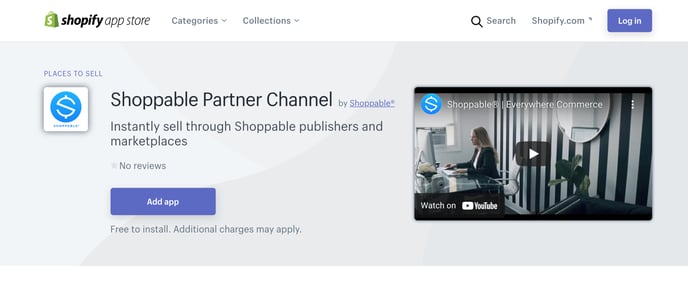 We set up our partnership to streamline Shoppable's onboarding process for Shopify merchants. Integrating your Shopify Shop with Shoppable allows you to promote and sell your products through the Shoppable platform which benefits you because it'll create new opportunities to convert customers by increasing the placing your products are being promoted.
Quick Guide to Installing Shoppable as a Sales Channel with Your Shopify Account:
It's very easy to get started and the whole process should only take you 5 Minutes.

Step 1: Go to the Shopify Appy Store. You can use this link or log in to your account and search "Shoppable Partner Channel" in the app store section: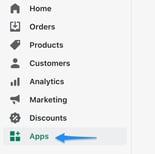 Step 2: Then click "Add app". This will prompt you to log in to your Shopify Account.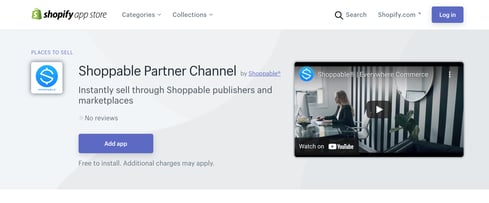 Step 3: Once you are logged in to your Shopify shop (you must be an admin on your shopify account), you'll receive a prompt asking to "Add Sales Channel." Then click the next prompt buttons that appear confirming you wish to "connect" with Shoppable.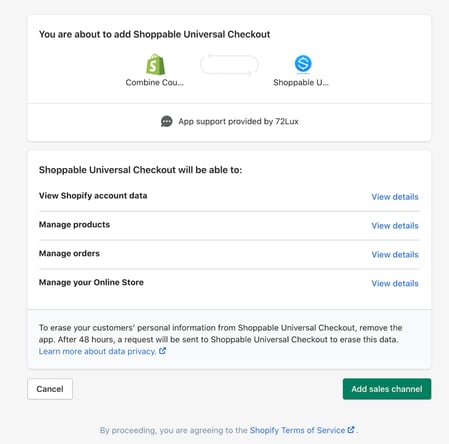 Step 4: Lastly, you'll need to log in to your "Shoppable Merchant Account" if you already have one. If not, click "Create Account" as seen in the below image to create a Shoppable Merchant Account.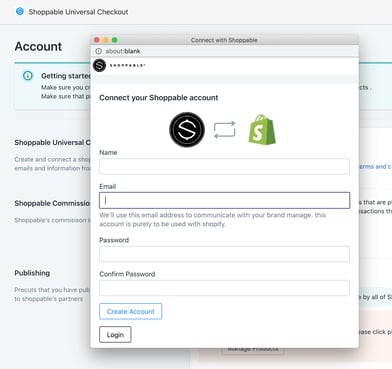 Step 5: Verify that products have been made available on Shopify.
Shoppable's Shopify app automatically makes products available for us to fetch from your product catalog, however, it is always good to verify there were not any errors so we can complete the process. To make sure your products are made available, simply navigate into your Shopify Account, head over to "Manage Products". If all products are selected, you are good to go.
However, if you click on manage products and your products are not published, you will need to click on the first box to select all and click on "Make product(s) available" to have all of your products made immediately available.


Step 6: Click the prompt and you're done! Welcome to Shoppable! 🎉
After you have completed the integration, you can email merchants@shoppable.com to receive confirmation of the integration and final approval to start marketing your products in Shoppable's catalog.
🛍️ After you have connected your shop, if you'd like to connect with us about specific Shoppable distribution partners or marketing opportunities, contact us using the form here or contact your Shoppable Merchant Manager.